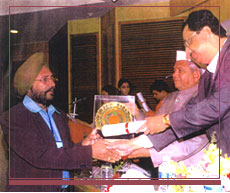 Having earned the recognition as a technology-driven engineering organization, B.S Saini Group of Companies (BSG) has emerged as one of the largest companies in India's Tube Sheet machining, drilling & Fabrication of Piling casing sector.

Founded in Bombay (Mumbai) in 1976 by an L&T shopfloor machine operator Mr. Baldev Singh Saini has reposed earnest and strong commitment to developing India's (drilling & machining) engineering talent and enabling it to meet the demands of industry.

With a modest beginning of functioning with one machine and then importing machineries from Europe and other countries; BSG rapidly took on engineering assignments of increasing sophistication.

With a well-fortified infrastructure and resources the company today sets engineering benchmarks in terms of scale and complexity.